"The waves of Baler have waited for me… Waited for me to come into its beaconing arms… so much that it almost sucked the very life in me…"
Although I have had my first near death experience amidst the whopping waves and treacherous depths of this fabled town, Baler would always melt my heart with memories.
--> Ermita Hill
--> Sabang Beach
--> Bay's Inn
--> Hanging Bridge
--> Museo De Baler
--> Quezon Memorial Plaza
--> Bahia De Baler...
At around 2300H me and my Travel Buddies met up in Cubao Terminal station of Genesis Transport Service. There was already a line of people waiting for buses going to Aurora and nearby provinces. We failed to reserve seats for their regular aircon buses (and we did not expect the deluge of passengers) so we were left with no choice but to grab the more expensive 31 seater, air-conditioned Deluxe bus, with an annexed CR, headed for Baler.
I say, grabbing a seat (with a bit of "tulak") amidst the throng of fervent crowd was no mean feat. I can literally say that I fought my own way there…hahahha.
It wasn't long before I dozed off to sleep, even before the bus departed. That's how comfortable the seat was. Aside from being spacious, the recliner was being true to its word. Define recline, it's "higa". Deluxe bus wasn't a bad choice for 500php fare.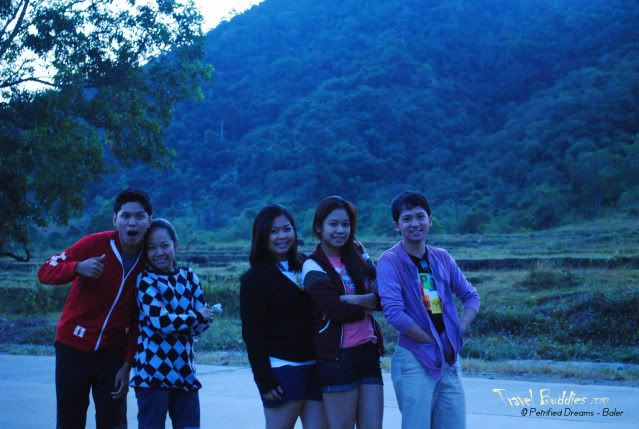 The first and only bus stop, somewhere in Nueva Ecija
We were in a bus stop along a dirt road when I woke up. Everyone else was also rousing from their deep slumber. It was almost 5am and everything was bathed in bluish hue. The air has a distinct smell of rural life, seemingly like a welcome greeting for us adventure seekers. We grabbed some special delicacy called "Tupig" (buko meat wrapped in malagkit rice, covered with banana leaves and roasted) for a cheap price of 5 pesos.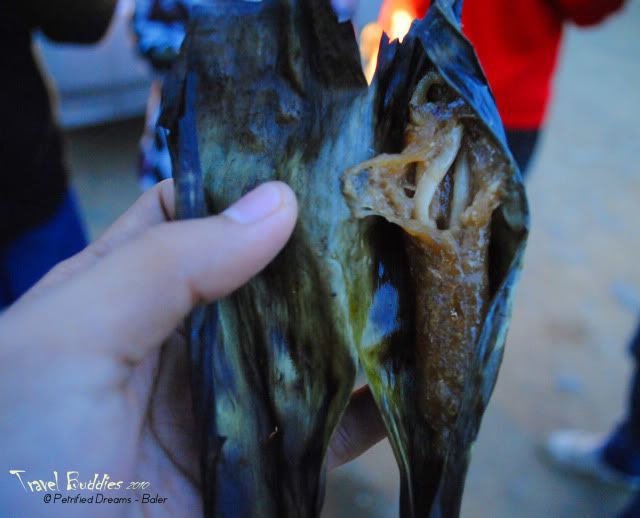 Tupig for Sale!
The principal and unpaved road (Canili road) going to Baler (passing by Talavera and Pantabangan, Nueva Ecija), is a feast to the eyes. I would have loved to stop the bus and photograph some of those breathtaking sights I've seen like the various rock cliffs, foggy mountains with low lying clouds, and sparkling bodies of water. Ahhhh… If only I have my own vehicle.
We arrived in Baler at around 7 am, a little early for our room reservation in Bay's Inn. After eating our breakfast at a "carinderia" in the New Public Market, we headed to Ermita Hill (via a rented tricycle, fare around Php25 each), the highest point in town. This is the historic hill that has become a refuge for the ancient people of Baler during a major tsunami that devastated the area more than 300 years ago.
Atop this hill, you'd have sizeable view of the whole rural district including the beachside of "Sabang" with those huge waves reaching nine (9) feet high, the buzzing "Pantalan" or the local fishing port near Sitio Cemento, the Pacific Ocean, or Sierra Madre mountains at the backdrop. The view on top is rather panoramic and calming.
There were little huts built where you could pass the time and contemplate. A chapel was erected for those wanting to find their spiritual self. Actually, in ancient times, the viewpoint has a huge bell used to signal a warning cry when moro-morong invaders were sighted.
White Cross at the Summit
We hiked a hundred steps more (around 130 steps) and reached a huge white Cross erected on a clearing. The cross, according to the townsfolk, was said to be miraculous. I remember being all exhausted going up. Gravity isn't too kind with my too heavy overstuff backpack. I wasn't expecting to be all sweaty this early on our trip.
We also saw a free roaming monkey (with cut hands) which happened to be addicted to Coke (some tourist where feeding it with soft drink). Seeing us, it went all berserk and started coming near us. Of course, major "takbuhan" was the next scene and Janet was the star of that amazing hundred meter dash of your life. Ahhahah.
Janet: "Shit! Ayokong magka rabies! Me rabies kaya ang mga unggoy noh!"
Julius: " So talagang feeling mo ikaw ang hinahabol ng unggoy! Feelingera... Hahah"
(Luckily, none of us were harmed by that over-zealous monkey)
Going down the hill is walk in the park. At the roadside, we hitch our return trip at the back of a truck.
Good thing, hitch-hiking in this area is not a foreign thing. Thanks for that truck driver for accommodating six people.
We were dropped off at the public market and few more minutes we were stepping foot at Bay's Inn.
Bay's Inn, which was formerly known as Ocean View, is located at Sitio Labasin, Brgy. Sabang. The place, among other inns in the area, has by far the best view of Baler Bay and the waves of Pacific Ocean. Their veranda / restaurant is best situated, but their food is rather typical and their room accommodation is just okay (Well, relatively better).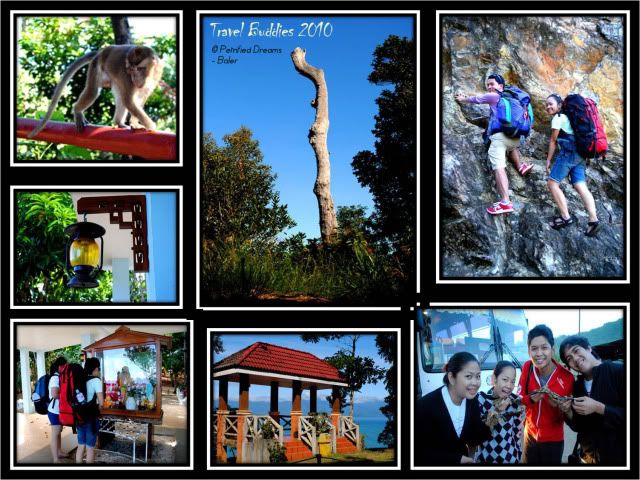 The Firts Taste of Baler @ Ermita Hill
Room rates are affordable, especially for groups (around 500-1000Php). I believe they just installed additional amenities, because when we went there, they were charging us more of what we have actually reserved (Siyempre, hindi kami pumayag. Aba! Go Tina and Ivan…!)
Tina: "Can I have a talk with your Manager…?"
Ivan: "We cannot pay for something we have not reserved in the first place..."
After that hot confrontation, we were more than ready to settle, when Byrone dropped the Bomb. In all actuality, we discovered that after travelling more than hundred of kilometers, we actually still don't have any itinerary of places to go, or a schedule of things to do.
Our master organizer was so pre-occupied with the logistics that he happened to forget organizing the schedule for trips/activities. What he has was a thick bundle of paper with copy-pasted list of tourist attractions in the area.
Janet: "OMG, By, gumana na naman ang sakit mo na yan!"
Tina: " Hay naku ka Byrone, hindi mo man lang pala pinlano kung ano na ang gagawin natin dito?!!!"
Marvin: "Grabe lang! Akala ko pa nman all set na! harzzzzzzzzzzz.."
By: " ahh eh.. Buti nga me list ako ng mga places. Hahahha. Kayo na ang mag set. Kaya niyo yan. San tayo mauunang pumunta? Hehehhe"
All was settled eventually. Good thing I have hand drawn map of Baler in my travel pad. It made itinerary making a lot easier. Late afternoon, we headed to the longest and scariest hanging bridge in the area located in Brgy. Zabali.
It's probably 500~ meters in length and supported by corroded cable wires. It scared the wits out of me as the bridge swayed to every little movement we made.
Looking at it closer, one would see its rusty metal supports and dilapidated wooden structure. It's not hard to imagine yourself falling in the open mouth of the green river, whose depth practically is unknown. Well, after a few struggles of mastering enough courage to cross the other side, we finally made it through unscathed.
Well, Tina and Kate were the stars of the moment, being the last of the group to take the challenge.



Tina: Kate! Hoy! Bumalik ka nga dito! Pag ikaw nahulog jan, bahala ka!
Kate: Asus, nagsalita ang takot! Ganyan yan, purke takot siya! Tara na nga. Oh my, nakakatakot pala!

Tina: Kuya (sa batang dumaraan), kaya ba naman ako ng hanging bridge na to? Ha? Baka naman bumigay to?

Kuya (to Tina sabay tingin from head to foot): ohmmm… Oo naman! Ahh…Wag lang sabay-sabay...


Later, we visited the Quezon Memorial Park, which was built in honor and commemoration of the late President Manuel L. Quezon, and the adjacent Museo de Baler located in the Poblacion area. The museum houses some of Baler's most prized relics including the original bells of the ancient Baler Church; unfortunately we weren't able to get inside because it was weekend.
However, the façade of the building was more than enough to satiate. It depicted some of the country's most memorable episode in history. The park also lodges the original car and statue of the late president Quezon.
That night, the town was buzzed in festive moods. Christmas spirit was everywhere. The whole plaza was bathed in neon colors and twinkling lights, from the huge glittering Christmas tree, to the lively fountains, and to the colorful "banderitas" overhead. It's nice to see a small town in this kind of merriment. It makes you smile for a while.
Later, we indulged ourselves to the rhythm of reggae and blues at Bahia de baler. The live band was just adorable and the food was fantastic; better than I've expected. We ended the night shortly due to exhaustion and fatigue. It was pure heaven as my body laid to the soft velvety cotton sheets and as my soul was lulled to oblivion.
What a day It was! ... and it was only the beginning...!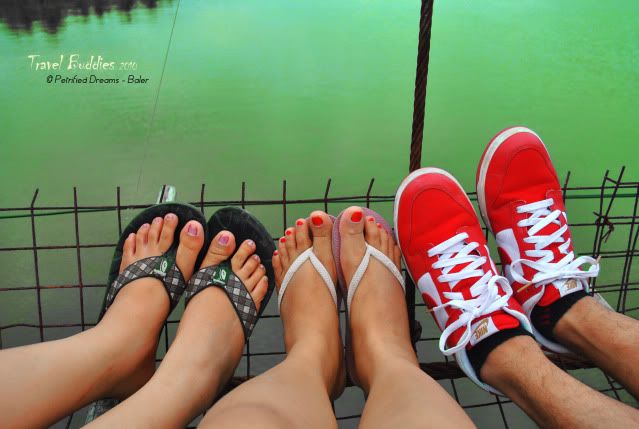 The adventure seekers (Hanging Bridge of Zabali)